Compelling Content Just Keystrokes Away
Supported Subjects: Expert TA's broad range of question types allows for support of almost any subject. We have extensive libraries of questions that can be leveraged in Introductory Physics, Astronomy, Biology, and American Government.
User Friendly Interface: Our authoring tool is driven by a Graphical User Interface; no coding knowledge is required. Floating menus and guided controls means no programming or technical experience is necessary to get started
Question Types: Instructors can effortlessly author any of the question types available from our problem libraries, regardless of how complex or advanced (see chart below for question types supported by subject).
Collaboration: Colleagues can combine authoring efforts into shared content collections with full problem history, versioning, preview, and quick-edit mode.
Enhancements: Built-in features for variable and phrase randomization, plus complete control over the equation entry palette. Add hints, feedback, and partial credit for the most commonly anticipated mistakes.
Expert TA's Libraries: Clone and edit from our problem library to personalize the content for your courses (add/remove parts, edit text, add/replace images, etc.).
Analytics: Instructor problem analytics provide data needed to further evolve your content based on actual student use and trends.
Upcoming Events:
Note: All times Central (CDT)
Problem Authoring Workshop (Physics) – December 16th, 2021 at 1:00pm: Participants will learn to develop questions using the authoring tool. The workshop will be useful for both new and existing users. Register using the form on the page. A pre-meeting survey will be emailed along with assets used to follow along during the session.
Problem Authoring Workshop (Astronomy, Biology, American Government) – December 17th, 2021 at 1:00pm: Participants will learn to develop basic question types such as Multiple Choice, T/F, Multiple Select; and will also learn how to easily create engaging Advanced Graphical questions that include Ranking, Sorting, Drag-and-Drop labeling, and Fill-in-the-Blank reading exercises. The workshop will be useful for both new and existing users. Register using the form on the page. A pre-meeting survey will be emailed along with assets used to follow along with during the session.
---
Supported Question Types
The following problem "types" are supported from within the authoring environment. In fact, users can develop questions for any subject in Expert TA. The authoring interface will allow problems to be scaffolded or multi-step (broken up into parts). Questions can also include more than one image when appropriate or needed.

Review & Thought: Short/Long Essays – not computer graded
Conceptual: Multiple Choice/Select, Conceptual, Test Banks, True/False, Image Based Multiple-Choice/Select
Symbolic Expression: Symbolic Equation Input or Expression Entry
Numeric: Numeric/Algorithmic Calculation with the possibility for answers based on randomized numbers
Advanced Graphical: These include: Matching, Labeling, Ranking, Sorting, Fill-in-the-Blank, FBD Drawing, etc. Draggable items can be images which allows for immersive questions.
Simulation: Questions based on PhET or Expert TA-generated Simulations. While you cannot yet construct simulations in Expert TA, you can base questions on existing simulations.
---
Enhancing your Content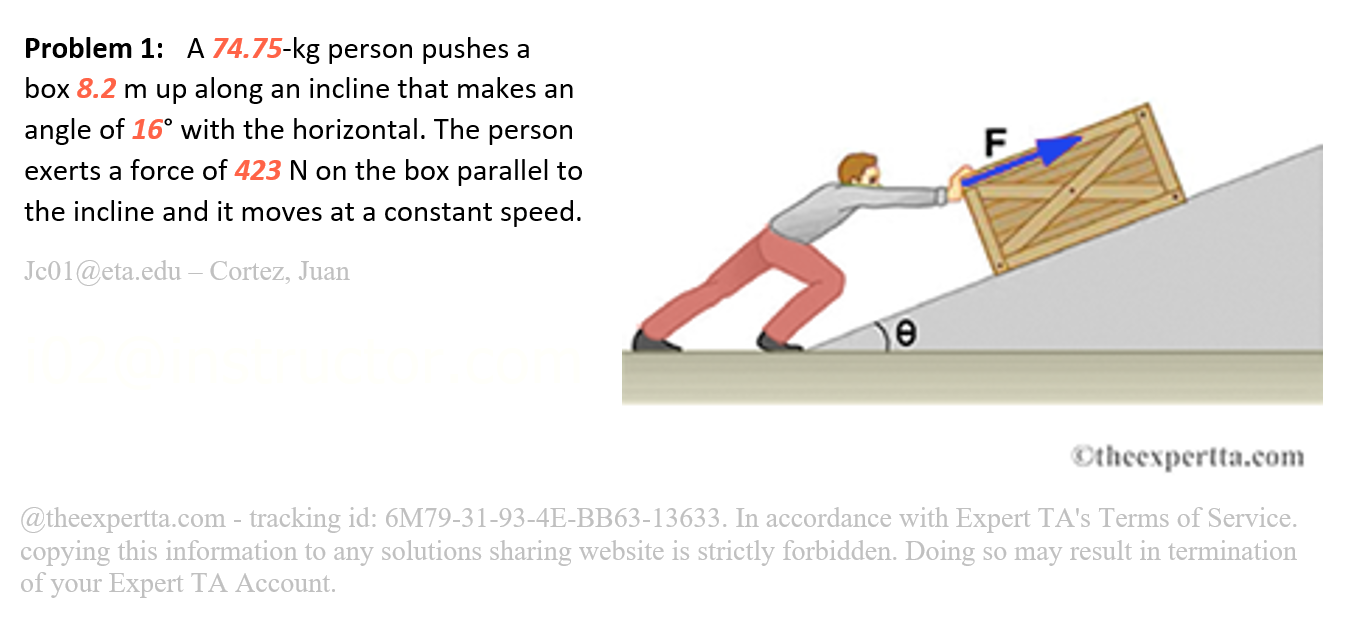 Alternate Variations: Easily create a copy of a problem from our library or your own collection and make subtle adjustments. "Similar" questions can be used with question pools so students can collaborate in more positive ways.
Versioning: Our authoring tool has advanced "versioning" which provides a saved history of changes along with the ability to revert to different saved versions seamlessly at any given time.
Randomization: Implement randomized variables and phrases into your problems to help deter cheating and to keep your content fresh.
---
Hints and Feedback: Hints offer students a good starting point to frame the question in general, but feedback can be used specifically for when students make a common-enough mistake that they can be nudged in the right direction in real-time. Both have value based on the individual student's knowledge and need. These help resources can be turned on and off as decided on by the instructor in their grade preferences.
Analytics: Analyze your students' experience with your assigned course content in Expert TA to gain a deeper understanding of the educational concepts that students struggle with the most.
Randomization Lookup Tool: Save yourself hours of submission reports to Chegg by using our Randomized Variable & Phrases lookup tool. This easily accessible tool allows instructors to match up any combination of randomization used on a given problem to identify when a student posts a problem to an answer-sharing website without permission.
---
Engaging Questions

Expert TA has designed our online homework platform to contain an appropriate combination of traditional and interactive questions. Our content team is regularly developing new contact across all of our supported subjects. This includes a balanced array of test bank-style problems, while also generating new questions based on instructors' specific needs. When a new problem is added to the library, all of the other instructor users within that subject benefit.
Engaging questions have students working in a drag-and-drop capacity, where application of a concept and critical thinking are important. Rote memorization is good for some types of assessment, but having an array of questions that tackle the range of assessment modes possible (practice, homework, quizzes, and exams) is our ultimate goal for each subject.
Drag-and-Drop labeling, shown left, is one example of interactive questions that get students more involved in the learning process.
---
More About our Libraries
Cloning content from one of our libraries can be a good starting place to making the experience for your students feel more personal to your course or teaching style. Learn more about our subjects and associated problem libraries below:
Physics Independent Library will soon surpass 5,000 total questions. Developed by active faculty, the Expert TA Physics problems are meant to work well with any textbook. Traditional questions where students are working in a problem-solving approach, inputting symbolic answers and numeric responses, are a critical part of the Expert TA's library. Our content team is using our latest problem-authoring technology to build questions where students work interactively by dragging items or images into place. These construction-based questions give instructors the most versatile introductory physics content collection on the market.
Astronomy Independent Library
is at 4,000 questions and growing. The content efforts are co-led by Andrew Fraknoi, the senior contributing author for the OpenStax Astronomy textbook. Our team is focused on adding problems that represent all levels of Bloom's taxonomy. After an extensive Winter 2020 focus group, many instructors feel our Astronomy library is now the best collection of assessment materials on the market. Just like with Physics, our
Expert TA Astronomy problems
have hints and feedback in place, anticipating errors students are likely to make. The problem collection can be used with any textbook as a means to assign students problems that have never been put into print.
Biology Independent Library
Initially, our team created content using the OpenStax Biology as a basis for our problem entry, developing them in such a way that the e-Text was fully connected. The
Expert TA Biology library
experienced a categorical review during Winter 2020 with dozens of faculty at major universities weighing in on where our future efforts and contributions should be concentrated. As such, the library is at 3,300 problems and represents a full range of Bloom's Taxonomy. Ongoing development of these questions includes new simulation-based problems, plus additions of hints and feedback. Like other subjects, the collection can be used with any textbook such as Campbell Biology to keep content challenging and new.